1/23/12 Ray's Backstage at The Rattle Inn
I am proud to be a part owner in The Rattle Inn, a new bar / venue located on west 6th St. in Austin, TX. Tonight is the Grand Opening celebration and The Wheel will be performing from 8pm-10pm.
12/12/11 Awake at The Wheel Coffee Has Arrived!
I have the BBQ Sauce, and now I have my own coffee! Pick some up at an upcoming Wheel Gig.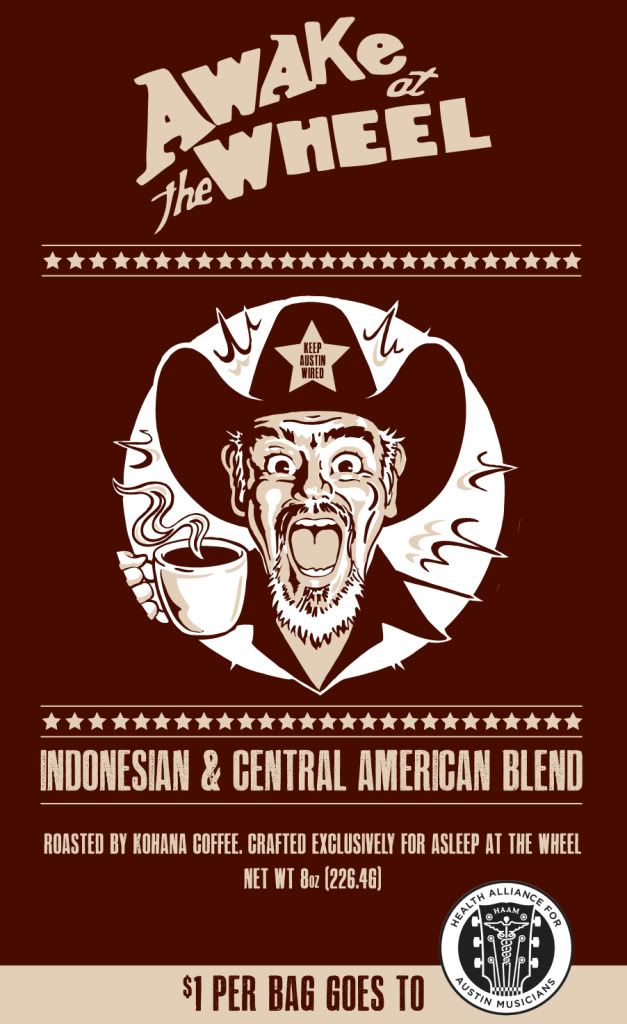 11/17/11 Ray Benson Guest Appearance on Phil Vassar's New Holiday Album
You can hear me on the track "Big Ole Texas Christmas" from Phil Vassar's new holiday album out next week. Details here.
10/6/11 Budda Amplification
In case y'all were wondering, I have been playing on this great new amp made by Budda. I've been using it at all the gigs this year and I'm really impressed with it. Have a look.
9/29/11 Central Texas Wild Fire Relief Concert 10/17/11 (6:30pm)
George Strait, the Dixie Chicks, Willie Nelson, Lyle Lovett, and Asleep at the Wheel will perform at Fire Relief: The Concert for Central Texas at the Frank Erwin Center Oct. 17 along with special guests Eric Johnson, Steve Miller, Joe Satriani, Christopher Cross, the Texas Tornados, Randy Rogers and Terri Hendrix. Emcees for the evening will include Kyle Chandler and Turk Pipkin.
Tickets are on sale now and are $25, $35, $100 and $250 VIP. The VIP ticket price includes premium seating and access to the VIP Lounge in the Lone Star Room. There will also be a silent auction with specialty items autographed by the artists, and T-shirts with the concert's logo for sale.
The University of Texas, Frank Erwin Center, The Messina Group, Austin Community Foundation and the all-star lineup of Texas musicians organized the concert to help raise money for victims of the late-summer central Texas wildfires. Losses are estimated to reach $250 million, and the fires outside Bastrop destroyed more homes than any wildfire in Texas history. Many of the short-term needs of the people affected by the fires have already been met; the goal of Fire Relief is to help them with long-term issues and problems, such as regaining livelihoods.
Produced by The Messina Group/AEG Live. All net proceeds will go to Central Texas community organizations and charities via the Central Texas Wildfire Fund at the Austin Community Foundation.
Click here to buy tickets to the event. 
9/21/11 HAAM Benefit Day Is Coming
If ya'll didn't know, I am a supporter of HAAM (Health Alliance for Austin Musicians) which provides low-cost primary health care services, basic dental care and mental health counseling. HAAM Benefit Day is Tuesday October 4th. Click on the poster for all of the details.
7/26/11 LOBBYING ON CAPITOL HILL
I've been on Capitol Hill in Washington the past couple of days with five other Grammy honored music producers lobbying congress about intellectual property laws. During the photo shoot I grabbed Nancy Pelosi to do a waltz after the photog counted one, two, three.
5/25/11 WESTERN SWING NAMED OFFICIAL MUSIC OF TEXAS
As much as I love playing western swing, I was not in support of this legislation. As I said to the Dallas Morning News, I would hate to have to stand next to my fellow musicians who play blues, rock and roll, jazz, opera, and say, "Your music is not our official Texas music."
4/4/11 MILES AND MILES OF TEXAS (VERSION)
Asleep at the Wheel featuring Ray Benson and He Wenxing with the Yunnan Performing Arts Group team up for a unique version of the iconic song Miles and Miles of Texas in the KLRU studio. The performance took place as a part of the Yunnan, China cultural exchange visit to Austin, Texas. http://www.youtube.com/watch?v=oLR5MCmkaJs
3/31/11 RALLY WITH THE TEXAS HISTORICAL COMMISSION
Attention Texans who care about our history:
Join Ray Benson and Texas' leading historical groups at a special rally
to fight for adequate state funding of the Texas Historical Commission to preserve our heritage.
3:45 PM
Thursday, March 31, 2011
Scholtz Garten
1607 San Jacinto, Austin, TX
Free Admission
3/30/11 "ROUTE 66″ FROM ASLEEP AT THE WHEEL'S 40TH ANNIVERSARY CONCERT
http://www.youtube.com/watch?v=4DQyvIJ4jj8&feature=related
3/26/11 AUDIO FROM AWARD CEREMONY
Click here and scroll to the 2:35 mark to hear snippets of Ray performing at the award ceremony in New Braunfels, TX. Here is a link to another image from the event.
3/24/11 TEXAN OF THE YEAR AWARD
Read the Resolution submitted by the Texas State Legislature regarding Ray's award here.
3/16/11 BIRTHDAY BASH FOR #60
Ray celebrated his 60th birthday with a big party at Austin's GSD&M on Tuesday March 15th (Ray's birthday is on the 16th) benefitting Health Alliance of Austin Musicians (HAAM). Joining him on stage were Elizabeth McQueen, Kat Edmonson, Carolyn Wonderland, Bonnie Bishop, The Trishas, Cody Canada, Dale Watson, Radney Foster, Roger Creager, The Wheeler Brothers, Redd Volkaert and several others.
Photo Blog 1: http://www.landisimages.com/blog/?p=1255
Photo Blog 2: http://www.uncommonmusic.org/2011/concert/ray-bensons-60th-birthday-party-austin-tx/
3/10/11 CONDUCTING BUSINESS FROM THE BUS
Jim Bessman from the Examiner stopped by the bus in NYC recently to witness the mobile office of Ray. Read the entire story here.
3/9/11 TEXAN OF THE YEAR
(New Braunfels, TX) — "The Architect," Karl Rove will return to New Braunfels coming up during the Texas Legislative Conference March 24th and 25th. Rove, a former Texan of the Year recipient himself back in 2003, will present that award to this year's honoree: Ray Benson of Asleep at the Wheel. That award reception is the kickoff to the Texas Legislative Conference, which this year is dedicated to former Conference Chair State Representative Edmund Kuempel, and on the 25th, the Conference will discuss several issues facing the State of Texas, ranging from the budget, border security, and redistricting across the state. Tickets are still available for the 2011 Texas Legislative Conference here.
3/7/11 TEXAS MEDAL OF THE ARTS
Texas Cultural Trust has awarded Ray Benson as the 2011 Texas Medal of the Arts winner for Multi-Media.
"Ray's honors include the Lifetime Achievement Award from the Americana Music Association, the TEC Les Paul Award and, in 2004, the official Texas State Musician. He stars in a play he c0-wrote,  'A Ride with Bob: The Bob Wills Musical.' He is an active advocate and board member for the Health Alliance for Austin Musicians."